I wanted to make a wreath today with stuff I had. I would have LOVED to do a yarn wreath but I don't have any... so I started out with this...
1. I pinned my ribbon at the top of the wreath. I purpose allowed 20 inches so I could tie the ends together to make the bow thing.
8. carefully slide it off the case and use another small piece of wire to tie them together.
9. Add them to the wreath.
10. Add a loop to hang it... Done... I had all this on hand, but total cost for this st. Patricks day wreath. $3.00. All from the dollar tree...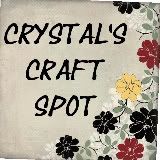 and
Tatertots and Jello
.. Go check it out!