I'm already thinking of my st Patricks Day today. What I'm going to make and do. So to kick off March 1st, I'm sharing my thoughts and things I've done in the past.
1st off, I want to make these little
pots of gold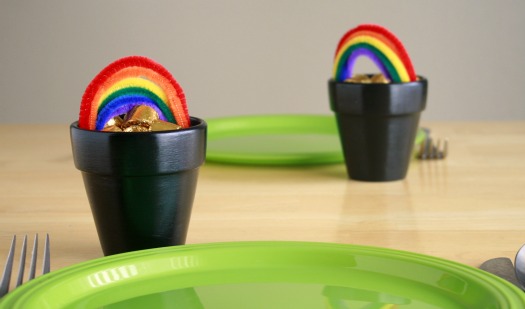 and maybe this
Rainbow pudding
. It may end up being jello depending on what my kids are in the mood for.
My mother is the queen of holidays. Her St Patricks Day meals were amazing. I remember green french toast and eggs, green crepes, green mashed potatoes, just to list a few. Mine are much more simplified, mainly because my husband won't eat anything that doesn't look a natural color. He said it weirds him out. I found that out after I made an all red breakfast, including french toast, eggs, and red OJ for valentines one year, he wouldn't eat it... So we have to find things that are naturally the color or close to the natural color....
Two years ago we did green pancakes for breakfast, and because it was a holiday I let Ethan have a green cookies and cream shake! (Dad isn't home for breakfast so I can use all the food dye I want!)
For dinner we had pesto and green pasta (just add green food coloring to the water when you cook your posta), and green lemonade... This passed John's pickiness.. he said the green pasta was fine!
I need some more ideas... if you have any leave a comment!!!