1. So but one t-shirt into 2inch strips and sew together, I think I did all six strips together for one long strip and ruffle down the middle.
2. for this one I started pinning half way down the v-neck and went around the neckline.
3. then came back around to where I started and then just turned and went back following the v-neck just matching where my other ruffle ended.
4. I kept my ruffle attached and just sewed what I had pinned. Just down that same ruffle stitch.
5. once you've sewed your ruffles in place you'll start your flower. I went ahead and overlapped my ruffles with the first outer circle of the flower. This makes the flower cover up the unsightly curved of the ruffle.
All done!!
I did this one...
then this one!
TRY IT OUT! YOU'LL BE HOOKED... again go check out
she is amazing. and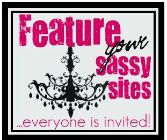 . there are so many good ideas floating around!